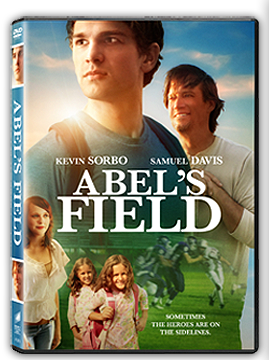 About the movie:
Left motherless by tragedy and abandoned by his father, high school senior Seth McArdle (Samuel Davis) faces enormous pressure as he strives to support his little sisters. At school, he endures the daily bullying of the football team. But fighting back only finds him singled out for punishment and assigned to an after-school work detail under the supervision of the reserved groundskeeper, Abel (SOUL SURFER'S Kevin Sorbo). Much to his surprise, Seth discovers that Abel may be the only one who truly understands his struggles. As dark times lure Seth toward desperate measures, the reluctant Abel may be the one person who can point him back toward the light.
My Opinion:
I grew up watching Kevin Sorbo play Hercules and I enjoyed his role in Soul Surfer so when I had the chance to watch Abel's Field which also stars him I knew I had to grab it.  Knowing that he is a Christian also made me excited to see how he played this role – which is somewhat more serious and heavy than his other roles that I've seen him in.  The movie draws you in from the beginning, I can feel for Seth whose mom is dead, abandoned by his dad and his half brother and left alone as a high school student to care for his sisters.  Under his tough exterior lays a young man who is crying out for help even though he says he doesn't need and thankfully with Abel's help he realizes he has to ask for it before he runs into trouble.
Now, for my readers and friends, I will say that Kevin Sorbo appears with his shirt off and reveals his fake tattoos – but this all a part of showing who he was and is.  My husband and I watched it with our children ages 10 and down and there was no issue with any behavior or language, this is a movie that the entire family can watch.  There is a momentary lapse of judgement where Kevin Sorbo loses his anger with the character Seth and a time when Seth and a 'friend' think it'll solve his problems to rob the school – and without giving away the whole movie – he doesn't ruin his life.
As much as I enjoyed the movie and had I been watching on my own I probably would have been emptying a box of facial tissues – I do want to say that Seth circumstances seem a little far fetched in the fact that no social services stepped in, even when the bank begins foreclosure on the house it seems maybe in a small Texas town no one thinks it's odd for a high school student to work 3 jobs (only 2 are paid), raising his sisters and asking for a loan?  I do appreciate the effort that Seth puts into keeping his sisters with him, even retrieving them from his Aunt when his half brother takes them – but while it seems a little skewed at times the movie was one with a great plot, excitement and an ending in which almost everyone lives happily ever after.
If you'd like to enter the giveaway to win one copy of Abel's Field then visit An Ohio Reviewing Mom.
**Disclaimer:  I received one or more of the products or services mentioned above for free in hope that I would mention it on my blog. Regardless, I only recommend products or services I use personally and believe will be good for my readers. I am disclosing this in accordance with the Federal Trade Commission's 16 CFR, Part 255: "Guides Concerning the Use of Endorsements and Testimonials in Advertising."
---
8 Responses to "Abel's Field DVD review – contest info"